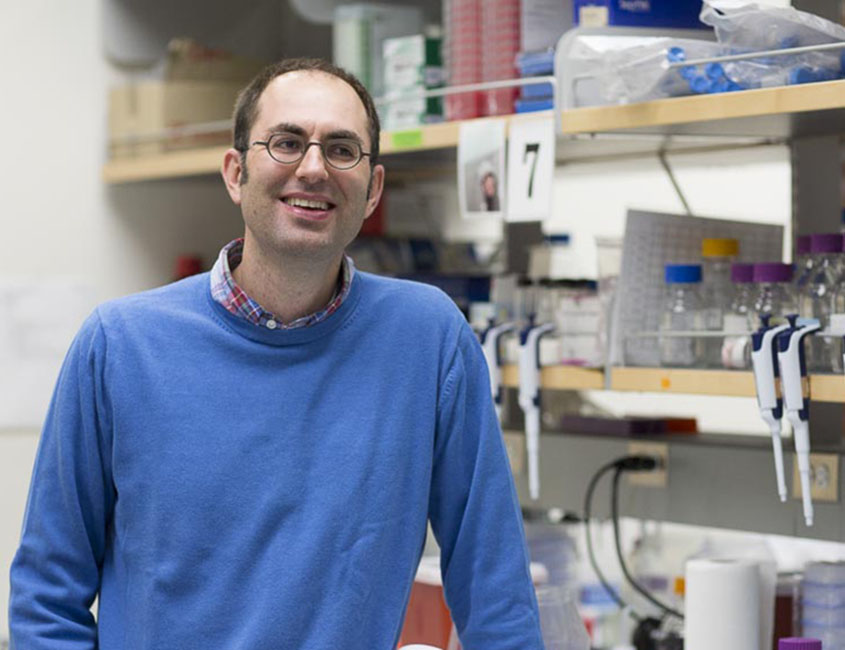 hailing from
Lake, MI
Education
B.S. – Central Michigan University – Mount Pleasant, MI (1998)
Ph.D. – University of Florida – Gainesville, FL (2002)
Postdoctoral Fellow – University of Virginia – Charlottesville, VA (2003-2005)
positions
Professor of Chemistry and Biomolecular Chemistry, UW-Madison
Director, NIGMS National Center for Quantitative Biology of Complex System
Thomas and Margaret Pyle Chair at the Morgridge Institute for Research
Background
I grew up in rural Michigan and during these formative years greatly enjoyed flyfishing and woodworking. Putting the latter interest to practical use, I constructed several riverboats (for fishing) while in high school and college.  Chemistry interested me, especially Analytical Chemistry, as it offered an avenue to continue "building".  Not boats, but chemical instrumentation. To escape the cold I joined the Chemistry graduate program at the University of Florida and worked with Willard Harrison. Professor Harrison didn't just guide my research, he taught me how to write, present, and think like a scientist. He was a gentleman in every sense of the word. Upon graduation in 2002, I moved to Charlottesville, Virginia to join the laboratory of Professor Don Hunt. At Virginia I met John Syka.  Don and John both shared a passion for science that was as infectious as it was inspiring.  Together we worked to develop electron transfer dissociation (ETD).  ETD worked just as we had hoped and the dissociation technique is now commonly used for proteomics and has been commercially introduced by no fewer than four major instrument vendors.  In 2005 I moved to Wisconsin to start my own program. And though we have been productive and impactful with ~ 200 published manuscripts, I am most proud to have produced nearly 20 Ph.D. scientists, and our academic family continues to grow.
"I greatly enjoy working with my team. Guiding students as they develop into confident, creative scientists is immensely rewarding."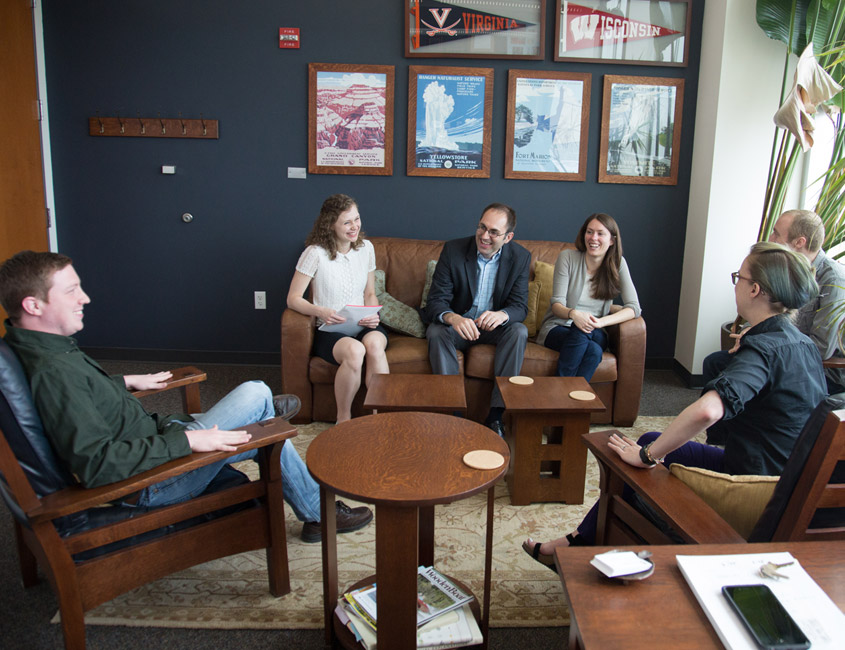 Research
Our mission is to facilitate expedient, comprehensive analysis of biological molecules to advance biomedical research.
The sequencing of the human genome marked the beginning of a collective scientific expedition to understand complex organisms. Genes, of course, merely contain the instructions for which proteins will populate the cell. Untangling the multi-faceted networks that regulate complex organisms and their diseases will require innovative technologies to globally monitor many classes of biomolecules, including nucleic acids, proteins, and metabolites. High-throughput technologies for gene and transcript measurement are well-developed and broadly accessible, and, as such, have had a fantastic and transformative impact on modern biology and medicine. For numerous reasons, methods for global analysis of proteins and metabolites – crucial biological effector molecules – are less evolved and markedly less accessible. The overarching mission of my program is to (1) facilitate expedient, comprehensive analysis of proteins and metabolites by innovating new mass spectrometric technologies and (2) apply these techniques to advance biomedical research.
"The ability to measure and quantify the molecular components of the cell is essential for modern biology and medicine."
Researchers well-trained in the areas of mass spectrometry and quantitative biology are highly desirable in both industry and academia.  Our laboratory has a reputation for producing some of the best young minds in these emergent areas.
Selected Publications
Hebert AS, et al. Calorie restriction and SIRT3 trigger global reprogramming of the mitochondrial protein acetylome. Molecular Cell, 2012, 49 (1): 186-199.
Phanstiel DH, et al. Proteomic and phosphoproteomic comparison of human ES and iPS cells. Nature Methods, 2011, 8 (10): 821–827
Hebert AS, et al. Neutron-encoded mass signatures for multiplexed proteome quantification. Nature Methods, 2013, 10 (4): 332-334.
Hebert AS, et al. The one hour yeast proteome. Molecular & Cellular Proteomics, 2014, 13 (1): 339-347.
Awards
Ruth L. Kirchstein Individual National Research Service Award (NIH)
American Society for Mass Spectrometry Research Award
Beckman Young Investigator
Eli Lilly and Company Young Investigator
NSF CAREER Award
Ken Standing Award (University of Manitoba)
Pittsburgh Conference Achievement Award
Philip R. Certain Dean's Distinguished Faculty Award
Arthur F. Findeis Young Analytical Scientist Award (ACS)
Biemann Medal (ASMS)
H.I. Romnes Faculty Fellow
Thomas and Margaret Pyle Chair at the Morgridge Institute for Research
Earn your Ph.D. with us
The Coon Group is always on the lookout for new members. Professor Coon accepts students from several UW-Madison doctoral programs including Chemistry, the Integrated Program in Biochemistry (IPiB), and Cellular & Molecular Pathology.