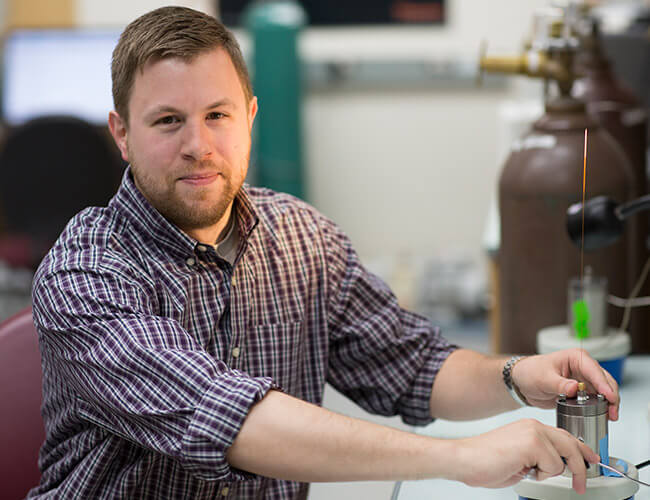 Postdoctoral Associate, University of Wisconsin–Madison
Hometown
Portland, Oregon
Postdoctoral Studies
2012-2016
Education
B.S., Gonzaga University; Ph.D. Biochemistry and Biophysics, Oregon State University
What brought you to Wisconsin for post-doctoral research?
My background is in classical biochemistry, and I wanted to shift fields a little. I had started doing mass spectrometry in graduate school, but only to answer a very specific biological question—I later realized just how powerful and broadly applicable of a technique mass spectrometry was after being introduced to the high impact research of the Coon lab. Mass spectrometry was an exciting new direction for me, and Dr. Josh Coon is one of the top mass spectrometry scientists in the world. Currently, I am in a post-doc with Dr. Rozalyn Anderson's group at UW, looking at the biochemistry of aging and metabolism. I returned to biochemistry research equipped with the training I received in the Coon lab, particularly experience in systems biology and big data, skills that I use every day in my current position.
"…I later realized just how powerful and broadly applicable of a technique mass spectrometry…"
How has graduate school impacted your life?
The most impactful thing about graduate school has been the intellectual freedom of the work. I have a large degree of control over what I investigate and how to structure the work, freedoms I wouldn't have in most other fields; I find the work more rewarding and exciting as a result.
Continuing with post-graduate work has also provided me the opportunity to travel. Until ending up in Wisconsin for my post-doc, I had spent my entire life in the Pacific Northwest. As I want to stay in academia, I anticipate more possibilities to move somewhere new will arise. Meanwhile, I enjoy going to conferences and visiting new places to share my research. My experiences so far have taught me that it's good to be open to new changes and challenges, in research and life.
Earn your Ph.D. with us
The Coon Group is always on the lookout for new members. Professor Coon accepts students from several UW-Madison doctoral programs including Chemistry, the Integrated Program in Biochemistry (IPiB), and Cellular & Molecular Pathology.