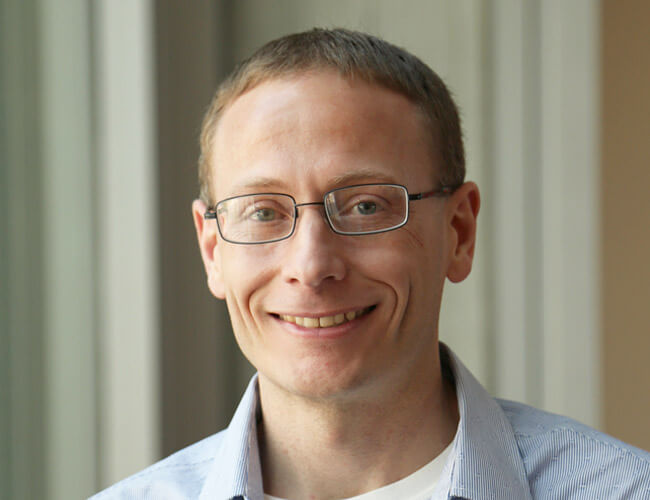 Senior Scientist, Invenra, Madison WI
Hometown
Dunkerton, IA
Undergraduate Institution
University of Northern Iowa
Ph.D. Studies
2007-2012
Title of Ph.D. Dissertation
Strategies for protein and peptide characterization and quantification using electron transfer dissociation mass spectrometry and intrinsic fluorescence.
Why Wisconsin?
This was a no-brainer for me. I'm from the Midwest, and I wanted to go to graduate school in the area. I was interested in analytical chemistry—UW has the best program in the Midwest and perhaps in the country. When I saw the Memorial Union on my campus visit, it seemed like a great place to stay.
"The group patents a lot of their ideas, which conveys to students the real-world applications of their research. "
How did your graduate school experience shape your career?
In my experience of the Chemistry department, the focus was on how to become a professional scientist. By the time you're defending you'll have four to five years of full-time research and professional-level research capacities as you go out into the workforce. This was really marked in the way the Coon group operates. The group patents a lot of their ideas, which conveys to students the real-world applications of their research. This was a unique opportunity to get a global picture of your research, and part of a larger emphasis on the ability to think beyond the scope of your current research project.
Professionalization experience aside, I'm now the associate director of a new center on campus—this role came directly from my history with the Coon group. I came back to UW in October 2015 to help launch the Laboratory for Biomolecular Mass Spectrometry, directed by Josh Coon. We use mass spectrometry to support metabolism research on campus.
What was the most rewarding part of graduate school?
First there's sort of an intrinsic reward—a sense of accomplishment. I was the first person on either side of my family to go to graduate school. My family was proud of me, I was proud of myself. It took a lot of discipline to get through the program, and in the end there's just a general sense of accomplishment that's impossible to tangibilize.
Secondarily, the assurance of a job! I can buy a ten-dollar bottle of craft beer without thinking twice about it, which is a great thing to take advantage of (once in awhile) in Madison.
Earn your Ph.D. with us
The Coon Group is always on the lookout for new members. Professor Coon accepts students from several UW-Madison doctoral programs including Chemistry, the Integrated Program in Biochemistry (IPiB), and Cellular & Molecular Pathology.