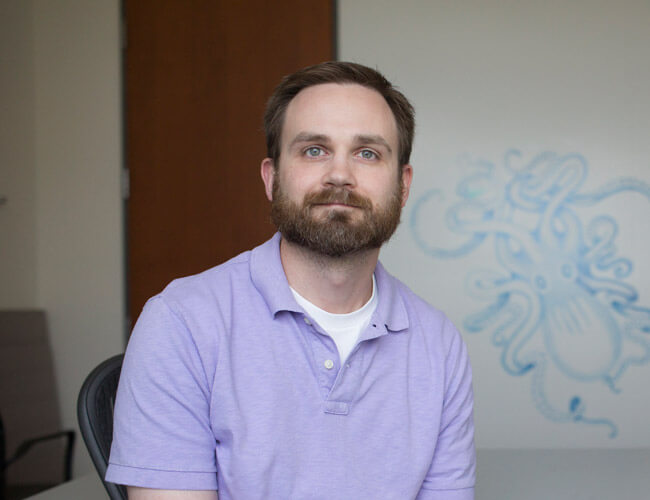 Scientist, Johnson & Johnson
Hometown
Saratoga Springs, NY
Undergraduate Institution
University at Albany
Ph.D. Studies
2009-2013
Title of Ph.D. Dissertation
Improvements to stable isotope and label-free quantitative proteomic methods.
Why Wisconsin?
Everybody I ran into at the place I was working, Merck Pharmaceuticals out in Pennsylvania, had only good things to say about it. Of course it was also a top program in Biochemistry. I fell in love when I visited and had to come.
"I fell in love when I visited and had to come."
What are you doing now?
I'm a scientist in the Coon group doing much of what I did grad school, working with mass spectrometry, with collaborators, and with the cutting-edge technology in the lab. When I was a graduate student in the lab I had an idea for a project called Neucode. In staying I've been able to pursue that from the very beginning to where it is now—a patent—and hopefully it will be a product soon.
Can you describe the trajectory of the Coon lab during your extended tenure?
I would say two things have happened in this time frame: One, proteomics has started to mature in our group and in the field. Experiments take ~1/10 the time that they used to when I started as a grad student in 2009, all while collecting much more comprehensive and quantitative data. We also have much more knowledge in place now, so we are more adaptive. We have expertise in most of the quantitative techniques—NeuCode, SILAC, label free, isobaric labeling, di-methyl labeling, PRM. And we have much more experience working an enormous array of sample types, from purified proteins, to cells or tissues, all from an enormous diversity of organisms—virus, bacteria, fungus, plant, mammalian. Two, the projects we take on are much more diverse. We used to be strictly proteomics and instrumentation, but in the last year or so we have ramped up metabolomics efforts as well.
Earn your Ph.D. with us
The Coon Group is always on the lookout for new members. Professor Coon accepts students from several UW-Madison doctoral programs including Chemistry, the Integrated Program in Biochemistry (IPiB), and Cellular & Molecular Pathology.