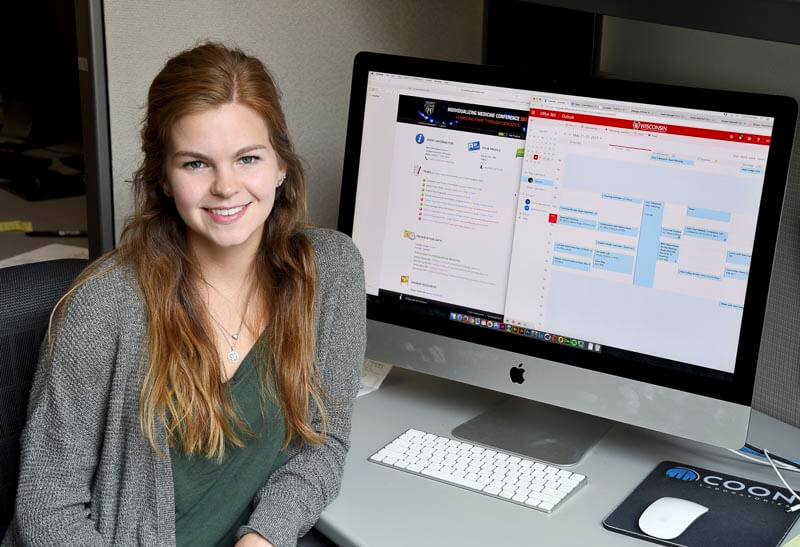 hailing from
Apple Valley, Minnesota, outside the Twin Cities.
Undergraduate
Sophomore at UW-Madison majoring in Genetics and Psychology.
What does your administrative role in the Coon lab entail?
What doesn't it entail?! Typical work depends on the day, but often involves financing, scheduling and correspondence, documentation, organizing travel for lab members and visitors, ordering supplies—behind the scenes tasks that make the lab run smoothly. New projects come up along the way. We're building a lab library for a collaborative workspace, for example, and working on setting up an outreach workshop for next summer. Both involve a variety of administrative efforts—including picking out and ordering furniture, something I never imagined I'd be doing in a lab setting.
How does this work fit in with your other interests and goals?
I also work in a research position at Bret Payseur's Evolutionary Genetics lab, and so I enjoy being in a lab environment at the Coon lab while learning more about the administrative side to a lab. Now knowing more about what goes on behind the scenes, I'm much more appreciative of the not necessarily flashy and cutting-edge but really essential work that administration provides. On the other side, I'm so impressed by what the scientists are doing in mass spec and proteomics every day in the Coon lab. Anything I can do to allow them to focus on the awesome work that they're doing, I'm going to do it.
This is something I didn't realize when I first applied and interviewed, but being here in the Coon lab is giving me so many and such high quality connections that will be really beneficial no matter what I do after I graduate. I can tell that everyone in the lab enjoys working together and values the way that collaboration furthers the collective impact of their research. Working in this kind of professional and collaborative environment has helped me figure out the best way to fulfill my role here, and I imagine will help me wherever I go—whether it's medical school and clinical genetics or genetic counseling.
Earn your Ph.D. with us
The Coon Group is always on the lookout for new members. Professor Coon accepts students from several UW-Madison doctoral programs including Chemistry, the Integrated Program in Biochemistry (IPiB), and Cellular & Molecular Pathology.